You can download the latest updated database as an xls table.
A harbour is a place where ships can seek shelter. The concept of 'shelter' has to include anchorages, landing places on beaches, and ports including structures such as access channels, breakwaters, jetties, landing stages, quays, warehouses for storing commodities and equipment, shipsheds and slipways. Shelters of interest for this catalogue include all places which may have been used by seafarers sailing over long distances. Villae maritimae are also of interest, but shelters the likes of local fishermen, who may have landed their boats on the beach in front of their homes, are of less interest. In another limitation, only maritime harbours and some river ports that could be reached by deep sea ships are considered.
In a first stage, only ports were listed that are explicitly mentioned by each ancient author (portus, navale, statio, places where ships anchored or landed). Cities where the presence of a port was known from other sources were not attributed to an author who mentions the city but does not mention the port. This limitation was certainly questionable as one cannot imagine coastal settlements without at least a minimal shelter for boats. It was therefore decided to include all coastal sites mentioned by the authors of a Periplus for whom one might consider that all places they mention are harbours.
Furthermore, it was considered that all coastal settlements mentioned in the Barrington Atlas and in DARE must have had a shelter, and they were included too.
Finally, I added over 200 places that are mentioned in modern nautical guides ("pilot") as "excellent shelters", and which may be considered as "Potential Ancient Harbours".
This led me to try to position all ports of the present catalogue on Google Earth. This was done with near-total success, excepting a few places where ancient documents do not provide sufficient data or provide contradictory data. This occurred mainly for some peripheral areas (Black Sea, Red Sea, and Atlantic Ocean). In such cases I tried to make some suggestions, usually marked by « ? » and/or with bottom page notes.
The spelling of many names has changed over time (e.g. in Arabic countries) and the list gives the most common names but without trying to be exhaustive.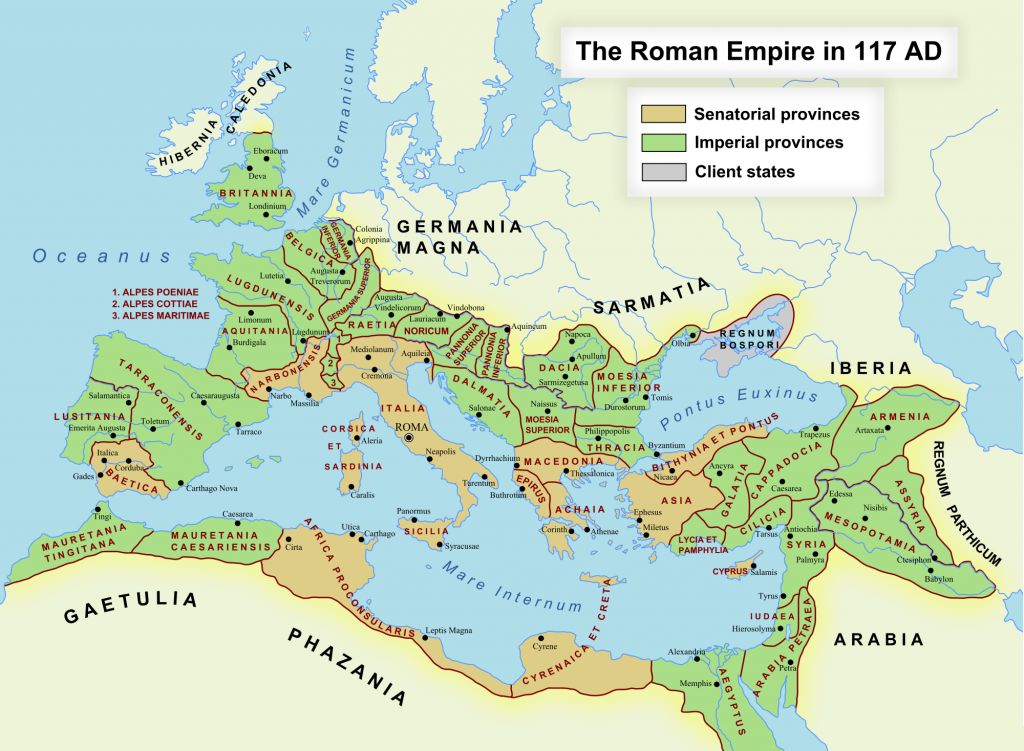 A nice evolution map of the Roman empire is shown on Wikimedia Commons.
The list of ancient ports is starting in the North Sea and ending in Morocco, via the Mediterranean Sea in a clockwise turn: Spain, South of France, Italy, Adriatic, Greece, Black Sea, Turkey, Red Sea, East Africa, Gulf, Indian Ocean and North Africa. This order has been followed as far as possible as some unknowns remain: disappeared ports, cities not yet located precisely … and probably some mistakes on my side.
Ports are grouped into 18 geographical areas in the lateral site map and in the following list:
Each area has a link to Google Earth to show the position of each port.
If you are looking for the location of a specific port, use the search engine (top right of this page) that will lead you to the page where this port is mentioned.
If you are uncertain about the spelling, you may enter just the part of the name you are certain of into the search engine.
Once on the page containing your port, use your browser's search engine to find your port in the table.
Note that you can also download the complete xls table with the link at the top of each page and use that to work offline. This may be much more convenient if you have to conduct some kind of study on ancient ports …

… and if you are not an expert historian, this may help you to start …
Further details can be found in the 'historical overview' hereafter.