As over 80% of tsunamis are related to an earthquake, let's have a look at the latter first.
Earthquakes
Earthquakes and volcano eruptions usually occur along faults separating tectonic plates moving with respect to each other.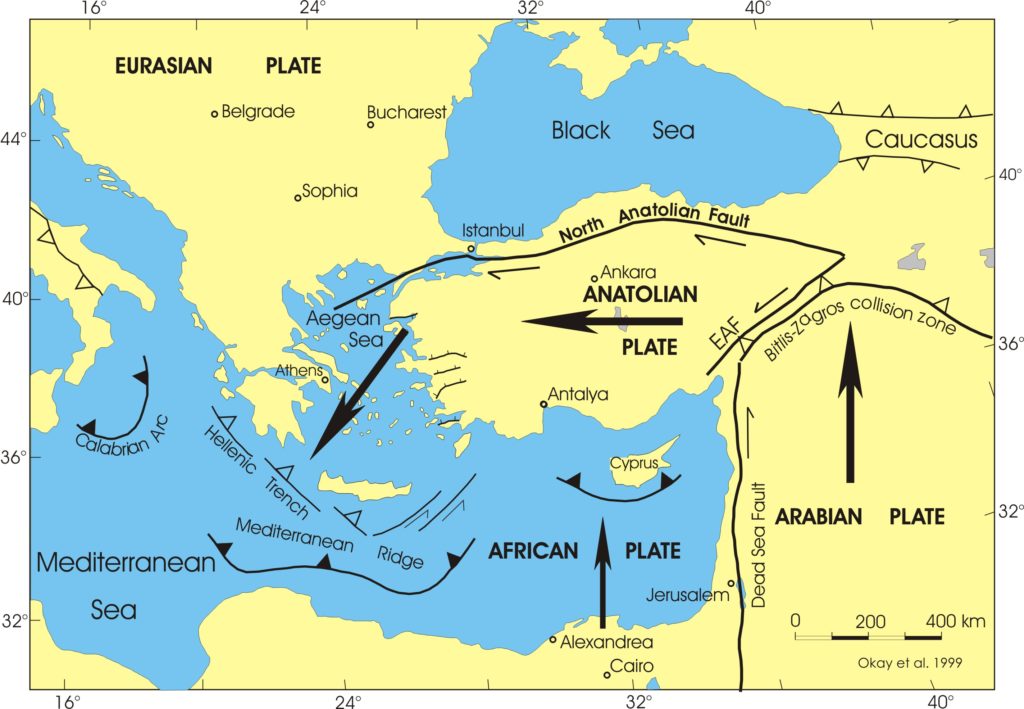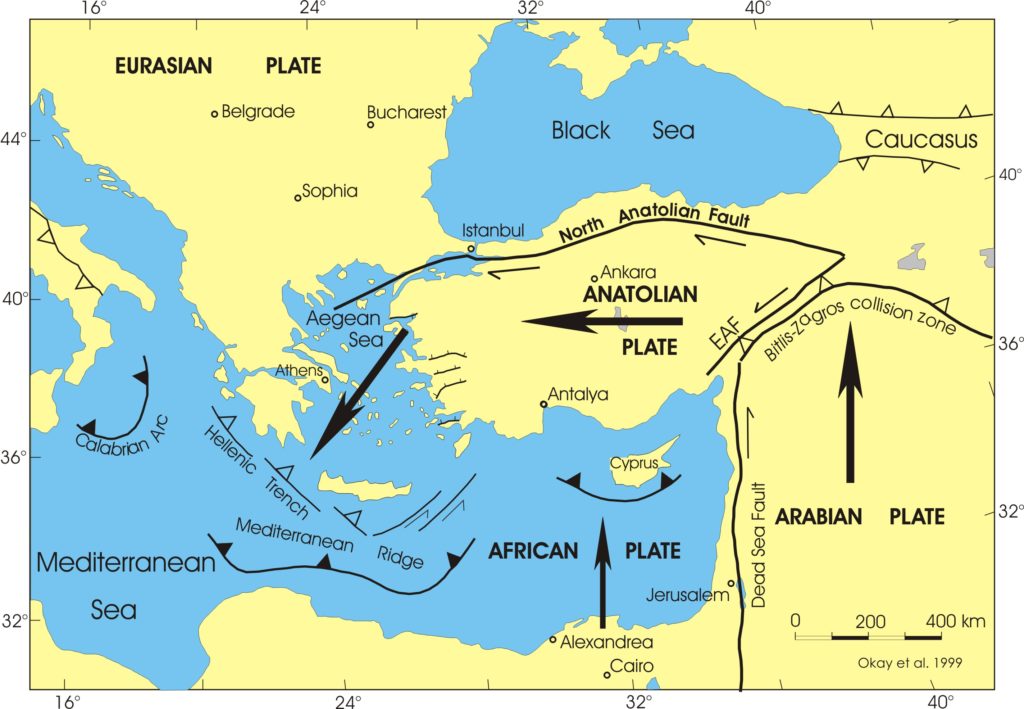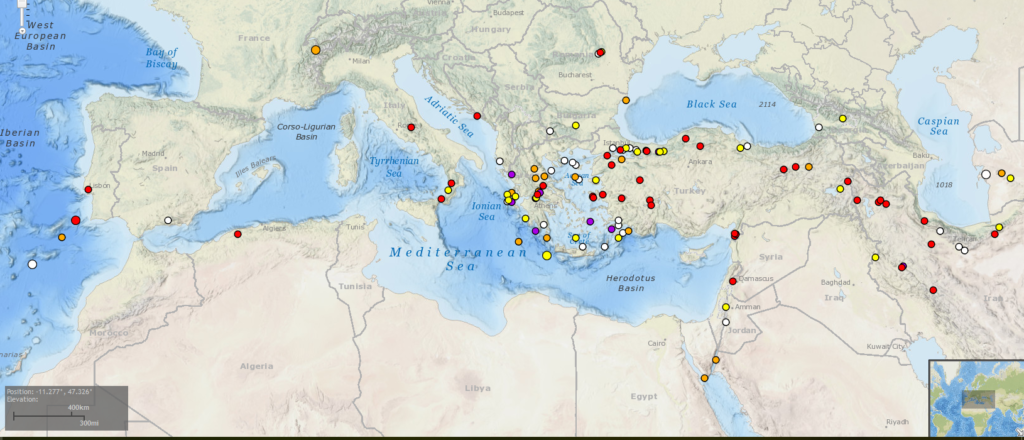 Measuring the 'size' of an earthquake is not a simple matter. One can describe the damage that occurred at a certain location and thus define a local 'earthquake intensity' (Mercalli, EMS-98 and others, usually ranging from 1 to 12). However, this may seem subjective and is location-dependent. Therefore, more scientific 'earthquake magnitudes' were defined (Richter and others) that are based on seismographic measurements and reflect the size of the earthquake at its epicentre.
Tsunamis
The size of a tsunami is also hard to define. It can be described as the horizontal inundation distance of inland flooding, or as the vertical run-up on a sloping shoreline, and/or as the maximum rise of the water level above the normal tidal level at the time of occurence of the tsunami (called "tsunami height" H), and/or as the water depth (and flow velocity) of the flow flooding the shoreline. Soloviev (1974) proposed a 'Soloviev-Imamura tsunami intensity scale' 'I' based on the tsunami height, averaged along the nearest coastline (Hav): for Hav = 2.8 m, I = 2, and for for Hav = 5.5 m, I = 3.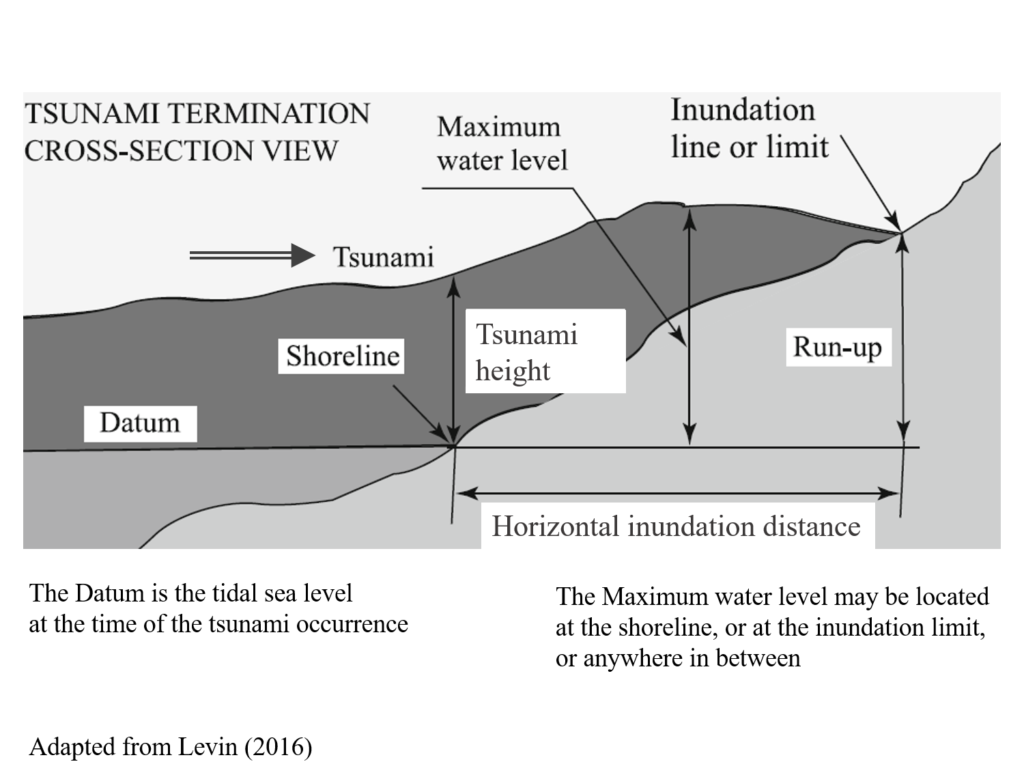 Attention has been focused on this natural phenomenon in recent times, and has been well known by the Japanese over the past millennia, reason why we use the Japanese word 'tsunami' to designate a single wave, or a group of a few waves, that travels on the sea surface and reaches the coast inducing more or less damage and casualties. A tsunami is not a storm consisting of many high waves. A tsunami might be compared to a tidal bore, but its generation is not due to the tide (triggered by moon and sun).
A tsunami is a large-scale, short-duration disturbance of the free water surface usually generated by crustal movements of the earth. Such movements can be generated by earthquakes and by volcanic eruptions inducing submarine landslides. This was intuitively understood by Thucydides (History of the Peloponnesian war, 3, 89). Other generating factors can be landslides, glacier calvings, submarine volcano eruptions or explosions and even meteorite impacts. Note that an earthquake does not generate a large tsunami by itself because the vibrations of the earth are of a frequency (say 0.1 Hz) unable to move a large body of water like a sea, but it can generate an onshore or a submarine vertical landslide, which may generate a tsunami if it is large enough and sudden enough. For this reason, the formal relationship between the intensity of a tsunami and the intensity of its generating earthquake is rather loose, i.e. a strong earthquake may generate only a small tsunami and vice-versa.
You can make your own small-scale modelling just by throwing a small or a large stone in still water!
From its area of generation, a tsunami propagates like a sea wave on the sea surface. However, its speed is much larger (say 500 to 1000 km/h). Like any wave, a tsunami will break when it reaches relatively shallow waters. On deep water, the tsunami may have a fairly small height (say around one meter), but when it reaches shallow waters (say less than 1000 m), the wave will gradually steepen and its height will increase. You might imagine that due to bottom friction, the bottom of the wave will travel slower than the top of the wave, thus leading to a 'spilling' of the top of the wave over the bottom side of the wave. The problem with a tsunami is that its wave length (order of 100 km) is much larger than that of a normal wave (order of 100 m), thus containing much more energy. Therefore, the volume of water involved in this spilling process is huge, resulting in a high-speed horizontal flow of water (say 10 m/s, or 35 km/h, and more) on the beach and adjacent coastal area (video). This might be called a 'tsunami bore', similarly to a tidal bore ( See the most impressive Qiantang tidal bore in Hangzhou Bay (China) featuring a 5-6 meters sudden rise of water level). The height of this water flow is usually limited to a few meters, but it can reach a considerable run-up height on an inland hill-slope.
Obviously, this huge volume of water must flow back to the sea, inducing further damage.
Moreover, the flooding may consist of several waves within say one hour (further reading on Wikipedia).
In the most dramatic historical events, the effects of an earthquake were combined with those of a tsunami, e.g. a coastal area was subjected to subsidence (or uplift) and to flooding by a tsunami generated elsewhere by the same earthquake. This probably happened on July 21, 365 when Crete literally tilted (9 m uplift on the south western side and 4 m subsidence on the north eastern side) with effects felt all over the eastern Mediterranean Sea.
The most (in)famous ancient tsunamis can be listed shortly as follows:
ca. 1600 BC during the Thera (Santorini) volcanic eruption, inducing a tsunami that partly destroyed the Knossos Minoan civilisation,
1365 BC at Ugarit, mentioned in an Amarna letter,
525 BC at Tyre and Sidon, mentioned by Strabo,
426 BC at Orobiae (north Euboea), mentioned by Thucydides,
373 BC at Helike (northern Peloponnesus), when the city disappeared,
227 BC at Rhodes, when the Colossus collapsed,
92 BC large tsunami on the Levantine coast,
79 AD initiated by the Vesuvius eruption near Pompei,
365 AD initiated on western Crete but felt from the Levant to Sicily,
458 AD at Antioch,
551 AD on the Levantine coast, one of the largest ancient earthquakes,
747 AD, large earthquake in Galilea and the Beqaa valley,
854 AD large earthquake in lake Tiberias
881 AD initiated on the Levantine coast but felt from the Levant to Andalucia,
991, 1002 or 1003, 1089, 1157, 1202,
1303 initiated near Rhodes but felt from Akko to Tunis and Istanbul,
1408 around Lattakia,
and others after 1500.
A more comprehensive list of 'all' known historical earthquakes and tsunamis in the Mediterranean that occurred before 1500 AD area can be found hereafter.
Notes about this list:
A total number of around 460 earthquakes was reported from 2000 BC to 1500 AD. Around 130 of these earthquakes generated a tsunami (28%).
Earthquakes are fairly well distributed in time and in magnitude, although some concentrations in time are found in 0-150 AD, 300-600 AD, 850-1000 AD.
The largest earthquake was reported on 21/7/365 AD, with an intensity evaluated to X-XI.
As each coastal earthquake does not necessarily induce a tsunami, we reported a "possible" tsunami when an earthquake occurred, but no tsunami was reported by ancient writers. Some places are located far enough inland to suppose they did not induce a tsunami (noted "-").
The intensity of earthquakes is given acc. to the European Macroseismic Scale (EMS) with the following intensity scale (for VII and more):
| | |
| --- | --- |
| VII | Damaging. Most people are frightened and run outdoors. Furniture is shifted and many objects fall from shelves. Many buildings suffer slight to moderate damage. Cracks in walls; partial collapse of chimneys. |
| VIII | Heavily damaging. Furniture may be overturned. Many to most buildings suffer damage: chimneys fall; large cracks appear in walls and a few buildings may partially collapse. Can be noticed by people driving cars. |
| IX | Destructive. Monuments and columns fall or are twisted. Many ordinary buildings partially collapse and a few collapse completely. Windows shatter. |
| X | Very destructive. Many buildings collapse. Cracks and landslides can be seen. |
| XI | Devastating. Most buildings collapse. |
| XII | Completely devastating. Almost all structures are destroyed. The ground changes. |
The following sources were used to compile this list:
ALTINOK, Y., 2011, "Revision of the tsunami catalogue affecting Turkish coasts and surrounding regions", Nat. Hazards and Earth Systems Sciences, 11, (p 273–291).
Geolithic: http://geolithik.com/map/
GUIDOBONI, E., COMASTRI, A., TRAINA, G., 1994, "Catalogue of ancient earthquakes in the Mediterranean area up to the 10th century", Istituto Nazionale di Geofisica, Bologna, (504 p), with 300 earthquakes before 995 AD described in detail.
PAPAZACHOS, B.C. & PAPAZACHOU C., 1997, "The earthquakes of Greece", Ziti Editions, Thessaloniki, Greece, (304 p), with 170 earthquakes before 1510 AD.
SBEINATI, M., DARAWCHEH, R., MOUTY M., 2005, "The historical earthquakes of Syria: an analysis of large and moderate earthquakes from 1365 B.C. to 1900 A.D.", Annals of Geophysics, Vol. 48, N. 3, June 2005, (89 p), with 181 Syrian earthquakes and tsunamis.
SOLOVIEV, S., SOLOVIEVA, O., 2009, "Tsunamis in the Mediterranean Sea 2000 B.C.-2000 A.D.", Advances in Natural and Technological Hazards Research, Springer, (239 p), with 341 tsunamis in historical times.
Wikipedia detailed articles about a few famous earthquakes, and lists of earthquakes and tsunamis.
Further details are provided in an xls table.
| | | |
| --- | --- | --- |
| Date | Location of tsunami | Location of earthquake |
| 2000 BC | Syrian coast | Syrian coast |
| 1600 BC | Crete north coast | Santorini eruption |
| 1365 BC | Levant | Ugarit |
| 1300 BC | Aegean Sea | Troad |
| 1225-1175 BC | possible | Eastern Med, "Earthquake storm"? |
| 1075 BC | possible | Larnaca, Salamis (Cyprus) |
| 760-750 BC | Levant | Levant |
| 590 BC | Levant | Tyre |
| 550 BC | possible | Sparta, Syros island |
| 525 BC | Tyre, Saida | Tyre, Saida |
| 510 BC | – | Thessalia |
| 500 BC | Antioch | Antioch |
| 496 BC | possible | Chios island (Greece) |
| 490 BC | possible | Delos island |
| -/3/490 BC | possible | Aegina island |
| 29/9/480 BC | Aegean Sea | Salamis (Saronic Gulf) |
| 479 BC | Potidaia (Chalkidiki) | North Aegean |
| 469-464 BC | – | Sparta |
| 461 BC | possible | Rome |
| 436 BC | – | Central Italy |
| 431 BC | possible | Delos island |
| -/12/427 BC | possible | Attica, Maliakos Gulf |
| -/7/426 BC | Orobiae (North Euboea) | Maliakos Gulf |
| 425 BC | possible | Etna eruption |
| -/3/424 BC | possible | Athens |
| -/8/420 BC | possible | Corinth |
| -/3/414 BC | possible | Cleonae |
| -/12/413 BC | – | Sparta |
| -/12/412 BC | possible | Kos island |
| 403-400 BC | possible | Elis (Peloponnesus) |
| 388 BC | possible | Argos |
| 372 BC | possible | Delos island |
| 373 BC | Helike (Gulf of Corinth) | Gulf of Corinth |
| 360 BC | possible | Sea of Marmara, Heraclea Pontica |
| 359 BC | Tyrrhenian Sea | Vulcano island eruption |
| 347-346 BC | – | Delphi |
| 334 BC | – | Anatolia |
| 325-320 BC | possible | Apamea |
| 331 BC | possible | Syria |
| 330 BC | Aegean Sea | Lemnos island |
| 321 BC | possible | Naples |
| 321 BC | possible | Liguria |
| -/12/304 BC | possible | West Turkey |
| 303 BC | possible | Gulf of Corinth |
| 287 BC | possible | Lysimachia (Hellespont) |
| -/12/279 BC | – | Delphi |
| 268 BC | possible | Picenum (Ancona) |
| 231 BC | possible | Lesbos island |
| 227 BC | South Aegean Sea | Rhodes |
| -/10/223 BC | Maliakos Gulf | Cytinium, Doris (Greece) |
| -/6/217 BC | Tyrrhenian Sea | Liguria & Etruria (Italy) |
| 200 BC | possible | Samos island |
| 199-198 BC | Levant | Saida, Rhodes |
| 199-198 BC | possible | Chalcis (Eubea) |
| 199-198 BC | Aegean Sea | Santorini eruption |
| 197 BC | possible | Lemnos island |
| -/3/193 BC | possible | Rome |
| 192 BC | possible | Rome |
| -/9/179 BC | possible | Rome |
| -/12/174 BC | possible | Sabina (Italy) |
| 148-130 BC | Tyre-Akko | Antioch |
| 133 BC | Tyrrhenian Sea | Luna (Italy) |
| 126 BC | Tyrrhenian Sea | Etna eruption |
| 118 BC | possible | Rome |
| 117-113 BC | possible | Apulia (Italy) |
| 100 BC | possible | Picenum (Ancona) |
| 99 BC | possible | Rome |
| 92 BC | Syria-Israel | Caesarea Maritima (Israel) |
| 92 BC | possible | Regio Calabria |
| 90 BC | – | Anatolia |
| 87 BC | possible | Apamea (NW Turkey) |
| 83 BC | possible | Rome |
| 76 BC | – | Rieti (Italy) |
| 72-70 | possible | Rome |
| 65 BC | possible | Antioch-Cyprus-Black Sea |
| 63 BC | – | Spoletium (Italy) |
| 58 BC | Adriatic Sea | Albania |
| -/5/56 BC | – | Potentia (Italy) |
| 50 BC | possible | Delos island |
| 50 BC | possible | Rome |
| 50 BC | Georgia | Sukhumi (Georgia) |
| 47 BC | possible | Rome |
| 44 BC | – | Alps |
| 43 BC | possible | Rome |
| 37 BC | possible | Dafneh (Lebanon) |
| 31 BC | – | Jordan valley |
| 27 BC | possible | W Turkey, Chios island |
| 26 BC | Pelusion, Paphos | Paphos (Cyprus) |
| 23 BC | Alexandria | Alexandria |
| 17 BC | – | Central Italy |
| 17 BC | possible | Paphos (Cyprus) |
| 15 BC | possible | Salamis (Cyprus) |
| 2 BC | possible | Naples |
| 5 AD | possible | Rome |
| 15 AD | possible | Rome |
| 17 AD | possible | Regio Calabria |
| 17 AD | possible | Sardis (Lydia) |
| 19 AD | possible | Saida |
| 20 AD | Georgia | Sukhumi (Georgia) |
| 22 AD | – | Cibyra (SW Turkey) |
| 23 AD | possible | Patras |
| 24/11/29 | possible | Nicea, Bithynia |
| 33 | – | Jordan valley |
| -/3/37 | possible | Capri (Naples) |
| 23/3/37 | possible | Antioch, Dafneh |
| 46 | possible | Santorini eruption |
| 47 | possible | Antioch |
| 47 | possible | Izmir, Samos |
| 50 | possible | Philippi |
| 50 | Bulgaria | Hellespont, Black Sea |
| 51 | possible | Rome |
| 53 | possible | Turkey, Antioch, Lattakia |
| 53 | possible | Apamea (NW Turkey) |
| 53? 62? 66? | Aegean Sea | Santorini eruption |
| 57 | possible | Albania |
| 60 | possible | NW Turkey |
| 61 | possible | Achaia (Peloponnesus) |
| 61 | possible | Macedonia |
| 05/02/62 | ? | Pompei |
| 62 | Eastern Med | Crete |
| 64 | possible | Naples |
| 68 | SW Anatolia | Patara |
| -/6/68 | possible | Rome |
| 69 | possible | Nicomedia (Bithynia) |
| 20/6/69-79 | possible | Corinth |
| 20/06/76 | Levant | Paphos, Salamis (Cyprus) |
| 24/08/79 | Bay of Naples | Vesuvius eruption |
| 82-94 | possible | Antioch |
| 97 | – | Nicopolis (Cilicia) |
| 99? | – | Pescolardo (Central Italy) |
| 101-200? | – | Aunobaris (Teboursouk, Tunisia) |
| 101-200 | – | Interpromium (Pescara, Italy) |
| 105 | possible | Cyme, Pitane (W Turkey) |
| 105 | possible | Opus, Oreus (Eubea) |
| 110 | possible | Galatia |
| 13/12/115 | Caesarea Maritima | Antioch |
| 117-128 | possible | Italy |
| 120? 128? | Sea of Marmara | Sea of Marmara |
| 10/10/123 | Sea of Marmara | Sea of Marmara |
| 127-130 | possible | Caesarea Maritima (Israel) |
| 141? 142? 148? 155? | SW Anatolia | Rhodes, Lycia |
| 160 | – | Doura Europos (Syria) |
| 160? 161? | possible | Sea of Marmara |
| 177 | North Sicily | Sicily |
| 178 | possible | Izmir (Turkey) |
| 3/5/181? | possible | Sea of Marmara |
| 201-300 | – | Anatolia |
| 217 | possible | Albania |
| 233 | – | Damascus |
| 235-236 | – | Anatolia |
| 241 | possible | Aphrodisias (Turkey)? |
| 242-245 | possible | Antioch |
| 251 | possible | Crete north |
| 258 | Tyrrhenian Sea | Tyrrhenian Sea |
| 262 | East Med | SW Anatolia, Libya, Rome |
| 267 | – | Ad Maiores (Besseriani, Algeria) |
| 268-270 | possible | Sea of Marmara |
| 275-276 | possible | Rome? |
| 293-306 | East Med | Salamis (Cyprus) |
| 301-400 | possible | Corfou |
| 3/4/303 | Levant | Saida-Tyre-Caesarea |
| 315 | – | Dead Sea |
| 320 | possible | Alexandria |
| 332 | possible | Salamis (Cyprus) |
| 334 | possible | Albania |
| 334-335 | possible | Kos island |
| 341 | possible | Antioch-Beirut |
| 341 | – | Maximianopolis |
| 342 | Levant | Paphos, Salamis (Cyprus) |
| 343 | possible | Neocaesarea (Turkey) |
| 11/4/344 | possible | Salerno (Italy) |
| 344 | possible | Rhodes |
| 344 | possible | Dardanelles |
| 346 | Adriatic Sea | Albania |
| 346 | possible | Rome-Naples |
| 348? 349? | Levant | Beirut-Arwad |
| 351-400 | – | Anatolia |
| 358 | possible | Albania |
| 24/8/358 | Sea of Marmara | Sea of Marmara |
| 361 | possible | Delphi |
| 24/5/362 | Dead Sea | Dead Sea |
| 2/12/362 | Sea of Marmara & Black Sea | Sea of Marmara |
| -/2/363 | possible | Istanbul |
| 18/5/363 | possible | Galilee |
| -/6/363 | possible | Libya, Corinth, Sicily |
| 21/7/365 | Greece, Sicily, Libya, Egypt | Western Crete |
| 11/10/368 | Sea of Marmara | Sea of Marmara |
| 368? 369? | possible | Germe (W Turkey) |
| 370 | possible | Paphos (Cyprus), W Anatolia |
| 373 | possible | Regio Calabria |
| 374 | – | Benevento (Central Italy) |
| -/11/394 | possible | Istanbul |
| 396 | possible | Istanbul |
| 400 | possible | Libya |
| 402 | possible | Istanbul |
| 1/4/407 | Sea of Marmara | Istanbul |
| 408 | possible | Rome |
| 408-450 | possible | Crete |
| -/7/409 | possible | Istanbul |
| 412 | possible | Utique (Tunisia) |
| 417 | possible | Cibyra (SW Turkey) |
| 20/4/417 | possible | Istanbul |
| 419 | possible | Antipatris (Israel) |
| 422 | possible | Istanbul |
| 7/4/423 | possible | Istanbul |
| 425 | possible | Jerusalem |
| 426 | Euboia Gulf | Euboia Gulf |
| 25/8/429 | possible | Ravenna (Italy) |
| 25/9/437 | possible | Sea of Marmara |
| 17/4/442 | possible | Istanbul |
| 443 | possible | Rome |
| 15/4/443 | possible | Ravenna (Italy) |
| 26/1/447 | Sea of Marmara | Istanbul |
| 11/6/448 | possible | Crete south |
| 26/1/450 | Sea of Marmara | Sea of Marmara |
| 450-457 | possible | Tripoli (Lebanon) |
| 14/9/458 | possible | Antioch |
| 459 | possible | Kos island (Greece) |
| 460 | possible | Sea of Marmara, Aegean Sea |
| 472 | possible | W Turkey |
| 474-478 | possible | Rhodes |
| -/9/475 | possible | Jableh |
| 478 | possible | Dardanelles |
| 25/9/478 | Sea of Marmara | Istanbul |
| 485? | possible | Rome |
| 26/5/492 | possible | Ravenna (Italy) |
| 494 | possible | Anatolia |
| -/9/499 | – | Anatolia |
| 500 | possible | Antioch, Seleucia |
| 501-525 | possible | Faenza (Ravenna) |
| 9/10/501 | possible | Ravenna (Italy) |
| 14/4/502 | possible | Ravenna (Italy) |
| 22/8/502 | Levant | Akko-Tyre-Saida-Beirut |
| 506 | possible | Albania |
| 515 | possible | Rhodes |
| 518 | – | Dardania (Balkans) |
| 521? 522? | possible | Durres (Albania) |
| 521? 522? | possible | Corinth |
| 523? 525? | possible | Cilicia (Turkey) |
| 29/5/525 | Levant | Byblos-Saida |
| 20/5/526 | Seleucia | Antioch, Seleucia, Dafneh |
| 527 | possible | Pompeiopolis (SE Turkey) |
| 29/11/528 | possible | Antioch |
| 2/1/529 | Lattakia | Lattakia (Syria) |
| -/7/529 | possible | N Turkey |
| 530 | possible | Myra (S Turkey) |
| 531-534 | possible | Antioch-Aleppo-Homs |
| 16/8/542 | Sea of Marmara | Istanbul |
| 543 | possible | Corinth |
| 6/9/543 | Sea of Marmara | Sea of Marmara |
| -/8/545 | Bulgaria | Varna (Bulgaria) |
| -/4/546 | possible | Istanbul |
| -/2/548 | possible | Istanbul |
| -/1/549 | Sea of Marmara | Istanbul |
| 551 | possible | Maliakos Gulf |
| -/4/551 | Gulf of Corinth | Etolia (Greece) |
| 9/7/551 | Caesarea-Tyre-Beirut-Tripoli (Leb.) | Lebanon |
| -/5/552 | Gulf of Corinth | Itea (Gulf of Corinth) |
| 15/8/554 | Sea of Marmara | Istanbul |
| 14/10/554 | possible | Alexandria |
| 554-558 | Aegean Sea | Kos island (Greece) |
| 11/7/555 | Sea of Marmara | Istanbul |
| -/8/556 | possible | Kos island (Greece) |
| 19/10/557 | possible | Istanbul |
| 14/12/557 | Sea of Marmara & Black Sea | Istanbul |
| 558 | Aegean Sea | Rhodes |
| 25/12/558 | possible | Ancona |
| 570 | possible | Antioch, Seleucia, Cilicia |
| 580 | possible | Corinth |
| 580-581 | possible | Antioch-Dafneh |
| 10/5/583 | possible | Istanbul |
| 584-585 | – | Arabissus (SE Turkey) |
| -/10/588 | possible | Antioch-Dafneh |
| 590 | Levant | Lebanon |
| 597 | possible | Thracia (Greece) |
| 601-625 | – | Anatolia |
| 601-602 | possible | Syria-Cilicia |
| 602-603 | – | Surb Karapet (E Turkey) |
| 620 | possible | Thracia (Greece) |
| 633 | – | Yarmouk valley (Israel) |
| 634 | possible | Aleppo |
| -/9/634 | – | Jerusalem |
| 641-668 | possible | Istanbul, W Turkey |
| 651-700 | possible | Vulcano island eruption |
| -/6/659 | – | Jerusalem |
| 659-660 | – | Jericho (Israel) |
| 672 | possible | Gaza |
| 677 | possible | Thracia (Greece) |
| 678 | possible | Antioch-Cilicia |
| 3/4/679 | – | Sürüç (E Turkey) |
| 700 | possible | Thessaloniki |
| 28/2/713 | possible | Antioch-Aleppo |
| 24/12/717 | possible | Antioch-Aleppo |
| 725-744 | possible | Ravenna (Italy) |
| 735 | – | Vayoc'Jor (Armenia) |
| 26/10/740 | Sea of Marmara | Sea of Marmara |
| 743-744 | – | Derbend (Anatolia) |
| 18/1/746 | Levant, Egypt | Levant, Egypt |
| 18/1/749 | Israel | Galilee, Baalbek, Damascus |
| 9/3/757 | possible | Syria |
| 778 | possible | Treviso (Italy) |
| 17/3/780-797 | possible | Istanbul |
| 30/4/792 | Adriatic Sea | Venice |
| 796-797 | possible | Alexandria |
| -/4/796 | possible | Crete |
| 4/5/796 | possible | Istanbul |
| 800 | Ionian Sea | Ionian Sea |
| 29/4/801 | possible | Rome |
| 19/12/803 | Bay of Iskenderum | Adana (Turkey) |
| 808 | – | Jerusalem |
| 813-820 | possible | Turkey |
| 5/5/824 | possible | Panion (Sea of Marmara) |
| 829-842 | | Turkey |
| 835 | possible | Antioch |
| 30/12/836 | possible | Pavia (Italy) |
| -/6/847 | possible | Rome |
| 24/11/847 | possible | Damascus-Antioch |
| -/6/848 | – | Central Italy |
| 853-854 | – | Lake Tiberias |
| 31/8/853 | possible | Sicily |
| 3/12/856 | possible | Tunis |
| -/12/856 | possible | Corinth |
| -/4/857 | possible | Cairo |
| 30/12/859 | Levant | Samandag (Turkey) |
| 859-860 | possible | Maghreb |
| -/01/860 | possible | Antioch, Latakkia, Jableh |
| 28/5/862 | possible | Istanbul |
| 13/2/863 | – | Dvin (Armenia) |
| 9/1/869 | possible | Istanbul |
| 16/5/881 | Akko | Levant |
| -/12/885 | possible | Cairo |
| 27/12/893 | – | Dvin (Armenia) |
| 894 | possible | Apulia (Italy) |
| 896 | possible | Thessaloniki |
| 906 | – | Kargop (Armenia) |
| 911-912 | – | Kairouan (Tunisia) |
| 911-912 | possible | Egypt |
| 926? 927? | possible | Thrace (Bulgaria) |
| 4/10/935 | possible | Egypt |
| 2/7/944 | possible | Cordoba (Spain) |
| 945 | possible | Istanbul |
| 25/7/950 | possible | Cairo |
| 951-1004 | possible | Rossano (Italy) |
| 15/9/951 | possible | Alexandria |
| 951-952 | possible | Aleppo |
| 5/1/956 | possible | Alexandria |
| 12/5/963 | possible | Egypt |
| 22/7/963 | Sicily | Sicily |
| -/9/967 | possible | SE Turkey |
| 22/12/968 | possible | Corfou |
| 1/7/969 | possible | Egypt |
| 972 | possible | Antioch, Damascus |
| 26/10/975 | Sea of Marmara & Black Sea | Istanbul |
| 977-978 | possible | Mahdia |
| 26/10/989 | Sea of Marmara | Istanbul |
| 989-990 | – | Central Italy |
| 5/4/991 | Levant | Baalbek, Damascus |
| 995 | – | Armenia |
| 996 | possible | Delphi |
| 1002-1003 | possible | Western Syria |
| 9/3/1011 | possible | Istanbul |
| 1016 | possible | Jaffa (Israel) |
| 1029-1030 | possible | Damascus |
| 5/12/1033 | Levant | Akko, Jericho (Israel) |
| 1036-1037 | Cilicia (Turkey) | Cilicia (Turkey) |
| 2/11/1037 | possible | Istanbul |
| 2/2/1039-1040 | Sea of Marmara & Black Sea | Istanbul |
| 1042-1043 | possible | Palmyra-Baalbek |
| 1050 | Aegean Sea | Santorini eruption |
| 27/8/1063 | possible | Tripoli (Lebanon) |
| 23/9/1063-1064 | Sea of Marmara | Istanbul |
| 1065 | possible | Istanbul |
| 18/3/1068 | Levant | Israel |
| 1070 | possible | Beqaa (Lebanon) |
| 6/12/1087 | possible | Istanbul |
| 1089 | possible | Palmyra |
| 26/9/1091 | possible | Antioch |
| 3/1106 | Adriatic Sea | Venice |
| 20/6/1112 | Bay of Naples | Naples (Italy) |
| 12/3/1114 | Calabrian arc | Calabrian arc (Italy) |
| 10/8/1114 | Levant | Antioch, Samandag |
| 1128 | possible | Tyre |
| 11/10/1138 | possible | Aleppo |
| 1140-1141 | possible | Sheizar (Syria) |
| 1147 | possible | Gulf of Corinth |
| 1153 | possible | Gulf of Corinth |
| 8/12/1156 | possible | Sheizar (Syria) |
| 12/8/1157 | possible | Hama (Syria), Lattakia, Tripoli (Leb.) |
| 4/2/1169 | Messina-Paterno | Etna eruption |
| 29/6/1170 | Levant | Damascus, Lattakia |
| 1172 | Sicily | Sicily |
| 20/5/1202 | Cyprus & Levant | Baalbek, Tyre, Damascus, Akko |
| 1211 | possible | Thessaloniki |
| 11/5/1222 | Libya, Alexandria | Paphos, Limasol (Cyprus) |
| 11/3/1231 | Sea of Marmara | Sea of Marmara |
| 1246 | possible | Crete west |
| 1261 | Levant | Levant |
| 11/8/1265 | Sea of Marmara | Marmara island |
| 1268 | possible | Adana (Cilicia) |
| -/3/1270 | Ionian Sea | Ionian Sea |
| -/9/1273 | Adriatic Sea | Albania |
| 22/3/1287 | possible | Lattakia |
| 1/6/1296 | possible | Istanbul |
| 17/7/1296 | possible | West Anatolia |
| 1300 | possible | Corinth |
| 18/8/1303 | Eastern Med | Crete-Rhodes |
| 1321 | Adriatic Sea | Venice, Delphi |
| 12/5/1327 | possible | Sea of Marmara |
| 28/6/1329 | Sicily | Etna eruption |
| 12/2/1332 | Sea of Marmara & Black Sea | Istanbul |
| -/1/1339 | possible | Tripoli (Lebanon) |
| 1/1/1341 | possible | Crimea |
| 18/10/1343 | Sea of Marmara & Black Sea | Istanbul |
| 25/11/1343 | Bay of Naples | Naples (Italy) |
| 2/1/1344 | possible | Aleppo |
| 19/5/1346 | possible | Sea of Marmara |
| 25/1/1348 | Adriatic Sea | Friuli (Trieste) |
| 1/3/1354 | possible | Sea of Marmara |
| 2/1/1365 | Algeria | Algiers (Algeria) |
| 30/4/1366 | possible | Rhodes |
| 1/6/1366 | possible | North Aegean |
| 1380 | possible | Albania |
| 1383 | possible | Lesbos island |
| 20/3/1389 | Aegean Sea | Chios island (Greece) |
| -/10/1395 | possible | Thessaloniki |
| -/6/1402 | Gulf of Corinth | Gulf of Corinth |
| 28/7/1402 | possible | Euboia |
| 16/11/1403 | Levant | Aleppo |
| 20/2/1404 | Syrian coast | Aleppo, Tripoli (Leb.) |
| -/4/1407 | possible | Antioch |
| 29/12/1408 | Lattakia | Bkas, Lattakia, Jableh |
| 1417 | possible | Sea of Marmara |
| 15/3/1419 | possible | Istanbul |
| 25/5/1419 | possible | Istanbul |
| 18/12/1419 | Sea of Marmara | Istanbul |
| -/7/1420 | possible | Thessaloniki |
| -/12/1420 | possible | Argos |
| 2/2/1428 | possible | Camprodon (Catalonia) |
| 26/3/1430 | possible | Thessaloniki |
| 4/9/1437 | possible | Sea of Marmara |
| 28/11/1437 | Aegean Sea | Aegean Sea |
| -/7/1444 | possible | Corfou |
| 1451 | possible | Croatia |
| 16/6/1456 | – | Serbia |
| 12/11/1456 | possible | North Aegean |
| 5/12/1456 | Bay of Naples | Naples (Italy) |
| 1457 | possible | Argolid |
| 1469 | possible | Kephalonia island |
| 1471 | possible | North Aegean |
| 1471 | possible | Albania |
| 23/4/1481 | possible | Istanbul |
| 3/5/1481 | SW Turkey & Levant | Rhodes |
| 10/9/1481 | possible | Rodigarganico (Italy) |
| 3/10/1481 | SW Turkey & Levant | Rhodes |
| 15/2/1482 | possible | Croatia |
| 1489 | SW Turkey | Antalya (Turkey) |
| 1/11/1490 | possible | Kos island (Greece) |
| 24/4/1491 | possible | Cyprus |
| 18/8/1493 | possible | Kos island (Greece) |
| 1/7/1494 | Eastern Med | Crete |
| 7/12/1504 | possible | Croatia |
| 29/5/1508 | Eastern Med | Crete |
| 10/9/1509 | Sea of Marmara & Black Sea | Istanbul |